7 Days Tsavo West - Amboseli - Aberdares - Lake Nakuru - Masai Mara
7 Days Tsavo West - Amboseli - Aberdares - Lake Nakuru - Masai Mara
Day 01: Nairobi - Tsavo West. After breakfast, depart for Tsavo West National Park which lies roughly halfway between Nairobi and the Coast. http://www.kws.go.ke/tsavo-west-national-park 
The chief marvel here is the Mzima Springs, replenished with two hundred and twenty million litres of crystal clear water everyday, from the underground streams stemming from the lava massif known as Chyulu Hills. Mzima Springs is a favorite haunt of hippos and crocodiles. There are well-marked nature trails, an observation platform and an underwater glass tank, which provides a special vantage point to view this in the Tsavo west remarkable oasis. Afternoon game drivea to see large herds of Elephants, Buffalo, Common Waterbuck, Eland, Gerenuk, Masai Giraffe, Black Rhino and Antelopes. Bird life is also in abundance at this park of great diversity in habitat and terrain. Accommodation at Tented Luxury camp or lodge.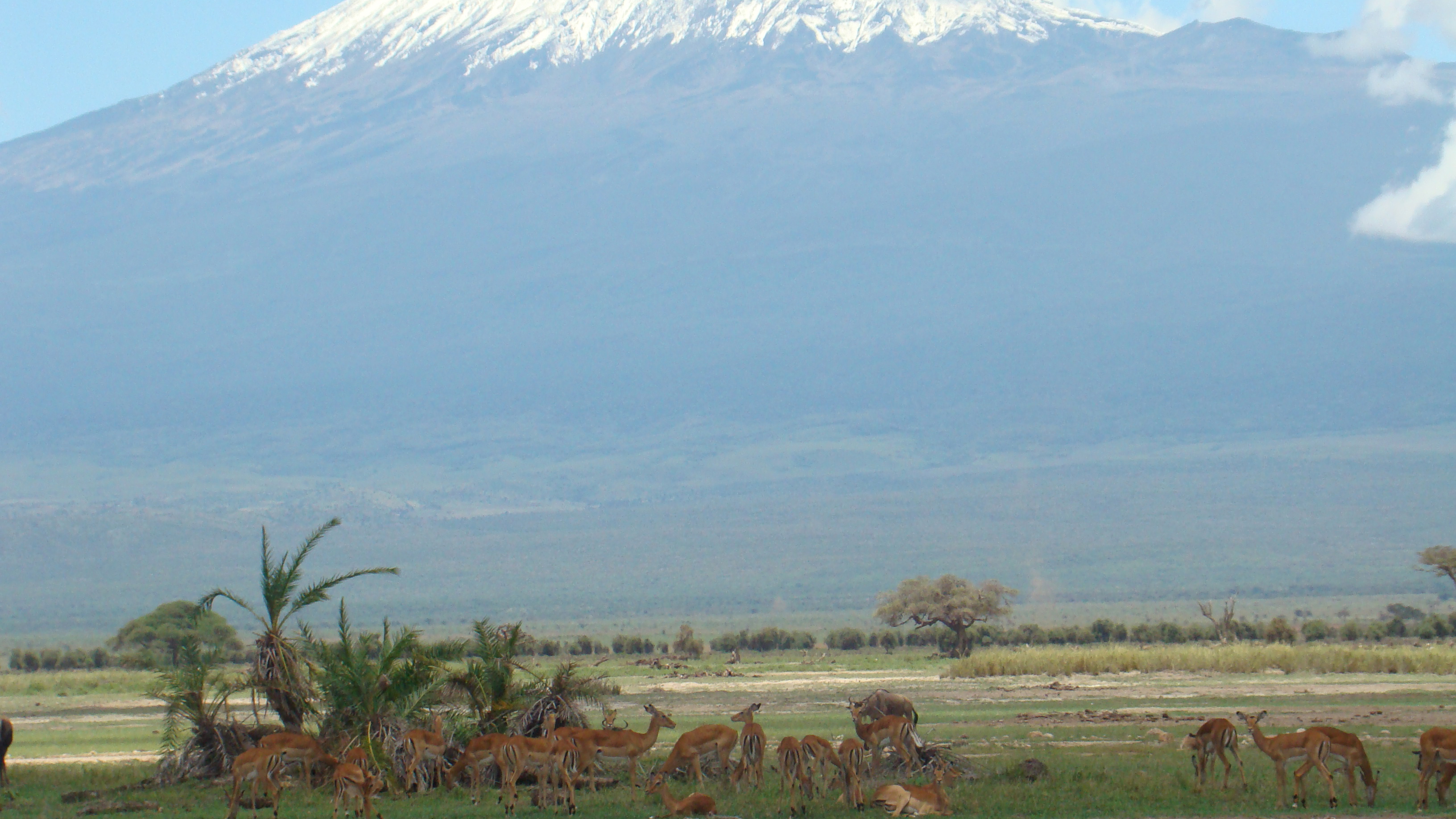 Day 02: Tsavo West - Amboseli. After breakfast, head for the bushy country of Amboseli national park http://www.kws.go.ke/amboseli-national-park Amboseli national park is a landscape dominated everywhere by the glistening, majestic snowcap of the mighty Kilimanjaro - a fitting backdrop to the wild region. It is also the region where pastoral Masai and their cattle have lived in harmony with wild creatures for many a century. After lunch, experience an afternoon game drive at the foot of Africa's highest mountain. Accommodation at Kibo luxury tented or Lodge. 
Day 03: Amboseli - Aberdare. An early morning game drive followed by a hearty breakfast and then depart for Nairobi for sumptuous lunch. Thereafter proceed north towards Mt Kenya for the unique experience of all night and unlimited game viewing, inside Aberdare national park http://www.kws.go.ke/content/aberdare-national-park  Lunch will be at the base hotel while dinner and overnight will be at a tree lodge surrounded by forest and overlooking an illuminated waterhole and salt lick. Over night at Tree Tops Lodge or The Ark.
Day 04: Aberdare - Lake Nakuru. After breakfast, drive to Lake Nakuru national park http://www.kws.go.ke/lake-nakuru-national-park Arrive in time for lunch. Enjoy an afternoon game drive in Lake Nakuru National Park. The park provides a sanctuary for the rhino. Lake Nakuru has always been considered a flamingo lake par excellence. The contrast and apparent dislocation between the shallow soda lake with its primeval birds and the animated woods all around it give Lake Nakuru National Park a very distinctive appeal. Accommodation at theChester hotel or Lake Nakuru lodge.  
Day 05: Lake Nakuru - Masai Mara. After breakfast, depart for Masai Mara - the land of vast migrating herds. Arrive in time for lunch. In the afternoon, embark on a game drive to get a closer look at the Mara. Accommodation at the camp or lodge. 
Day 06:Masai Mara. Awaken to the sounds of the big game country and venture out to absorb the enormity of the Mara. In this country of breathtaking vistas, view its vast assemblages of plains game together with their associated predators: Buffalo, Black Rhino, Hippopotamus, Leopard, Cheetah, Common Zebra, Coke's Hartebeest, White bearded Gnu, Oribi, Warthog, and Thompson's and Grant's Gazelles. An early evening game drive to catch up on all that was missed. Accommodation at the camp or lodge. 
Day 07: Masai Mara - Nairobi. Morning game viewing drives before breakfast. After breakfast drive back to Nairobi to arrive around 16:00pm. 
Safari Inclusive:
Complementary airport transfer on arrival in Nairobi
Transport while on safari - with pop up roof safari vehicle
All park entrance fees and government levies
Full board accommodation in campsites/lodges -double room sharing
3 Meals per day while on safari- vegetarian & non vegetarian
English speaking professional driver guides
Bottled drinikng water - 1 litre per person per day
Exclusive / Extras:
Expenses of personal a nature,
Sodas and alcoholic drinks
Laundry services
Gratuities/tips
Optional travel insurance
Entry visa,
Health requirements (you are entering a Malaria area).
Also excluded is accommodation in Nairobi - can be arranged on request